May 29th, 2010
May 29 Felton, CA "Spring Creek," an image created by local artist Larry Darnell, has been chosen by the Morris Graves Museum, Eureka, CA and the Santa Cruz Art League for their respective shows: Images of Water and Transference of Light.

The Images of Light show in Eureka, CA [5/21-6/27/10] at the Morris Graves Museum is the 24th annual California Mixed Media Competition and Exhibition open to California artists. The Transference of Light show, in Santa Cruz, CA[7/2 -8/1/10] is a competition open to artists nationwide.

"Spring Creek" is a photo-based acrylic painting style image made from an original photograph of a tributary of the South Fork of the Stanislaus River near Boards Crossing in the central Sierra Nevada. Taken in early March, the spring runoff is still brisk with the shaft of mid afternoon sunlight slanting through the pines and cedars. The original underlying digital image was filtered and processed in Photoshop to create a painterly look, and originally printed on canvas.

Larry Darnell's work brings remote natural locations to viewers who wish to share quietude, serenity and the beauty of these places. For over a decade he has been combining photography and digital tools to create images that have the feel and quality of traditional paintings and prints.

His work has appeared in Central California galleries, juried exhibitions and is owned by a number of American collectors. He lives in the Santa Cruz Mountains in Central California.

Larry Darnell website www.ldarnell.com

Contact:
Larry Darnell
1321 Lost Acre Dr
Felton, CA 95018
831 335 3929
art at ldarnell.com
May 29th, 2010
The Marin Museum of Contemporary Art, Novato, CA. recently chose Larry Darnell's image "Columbia Rhythm" for the Fifth Summer National Juried Exhibition "Private Eyes: Artist Visions". The show dates are June 19 - July 18, 2010.

"Columbia Rhythm" was taken on an early fall morning at the Columbia Historic State Park, Columbia, California, a preserved gold mining town in the Sierra Nevada foothills. The shot is of the entrance of a small cabin, its doors and walls of unpainted raw weathered wood; the uneven and time-worn sagging counterpoint to the subdued elegance and Eastern style transplanted to the raw wild gold settlement.

Larry Darnell's work brings remote natural locations to viewers who wish to share quietude, serenity and the beauty of these places. For over a decade he has been combining photography and digital tools to create images that have the feel and quality of traditional paintings and prints. "Columbia Rhythm" is part of a series of photographs of historic sites which are presented as documentary photographic images as opposed to art pieces.

His work has appeared in Central California galleries, juried exhibitions and is owned by a number of American collectors. He lives in the Santa Cruz Mountains in Central California.

Larry Darnell website www.ldarnell.com

Marin Museum of Contemporary Art at the Novato Arts Center at Hamilton Field
500 Palm Drive, Novato, CA 94949
415-506-0137
May 12th, 2010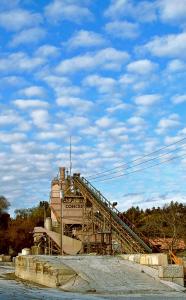 The image Las Animas Concrete was chosen today by Santa Cruz County to be a part of their ongoing photo collection titled The Visual Chronicle of Santa Cruz County. The collection is publicly displayed in county facilities.

This image was made from a photograph taken by Larry Darnell in the winter of 2009 on Encinal Street in Santa Cruz. "Most of my works are landscape photographs," says Darnell, "very few, however, remain as traditional photographs. With the computer, I've developed a number of styles which have the feel of paintings or prints. This one is part of a series inspired by Japanese-style wood block prints."

From the Santa Cruz County website:

The Visual Chronicle of Santa Cruz County
The Visual Chronicle of Santa Cruz County is an archival collection of works on paper owned by the County of Santa Cruz that portrays artists' ideas, visions and perceptions of what makes this County unique. The intent of the collection is to document the spirit of the times in Santa Cruz. People, neighborhoods, landmarks, buildings, events, daily life - will be captured on paper by some of the leading artists in the County.

http://www.scparks.com/visual_chronicle.html
April 27th, 2010
Please check it out: http://www.ldarnell.com
November 5th, 2009
Tomorrow I'll be going to the Desolation Wilderness west of Lake Tahoe - my destination is Loon Lake. Water levels are very low, which is normal for this time of year - so I am not sure what I'm going to see. High winds a few weeks ago have taken much of the aspen leaves - so unless I can find some sheltered areas, I don't have much hope for fall color. A tad too early for snow, altho there may be some dusting tomorrow night.

My last Sierra trip about a month ago caught a little snow, and was a tad too early for Aspens - like any other landscape photographic exercise, subject to conditions: the combination of knowing the location, luck of the weather and timing. I was fortunate finding a couple of locations, while not what I had expected, were satisfactory on route 4 - Cascade Creek and just East of the pass. I put almost 300 miles on the vehicle one day, and didn't feel like driving that much the second, so opted for 2 locations on my way back to Felton: Sierra Railroad State Park - Jamestown, CA, Columbia Historic State Park - Columbia, CA and Knight's Ferry, CA. Some of these images have been posted at this time.

Columbia about 8am provided a nice historic location in early morning sunlight. I arrived at the Sierra Railroad around 10 where most of my shots were interiors with slow shutter speeds. I arrived at Knight's Ferry about lunchtime, where all the shots are exteriors. These 3 locations made up for the lack of exciting mountain/panorama/leafer material.

Tomorrow I'm hoping to gather some images, but perhaps find another area to visit on a regular basis.